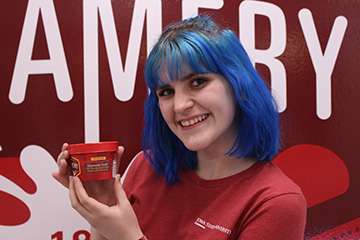 March 7, 2022
Marissa Smith
The Iowa State University Creamery is expanding its horizons, releasing a vegan frozen dessert option titled Slizewski Swirl for the Cyclone community on March 21, 2022. The new dessert is the ISU Creamery's first venture into the world of non-dairy-based foods and is the product of current Iowa State University senior Lucy Slizewski.
"We were getting interest from the public of people coming to the storefront asking for it, so we thought it would be a good option for the Creamery," said Slizewski.
The ISU Creamery is one of the few university dairy food science programs in the nation that produces and sells its products. Iowa State students gain experiential experience that helps advance their careers in the fast-paced and competitive dairy science industry.
"It's about education. That's a large reason why we have the Creamery. It's our first mission point: to educate students," said Dr. Stephanie Clark, ISU Creamery Director.
Through formulating this non-dairy frozen dessert, Slizewski took her education into her own hands and utilized the opportunities provided by the ISU Creamery. Over the course of a year-and-a-half of trial and error, Slizewski formulated a vegan frozen dessert base that mimics the taste and feel of real ice cream. She used coconut milk and pea protein in her formulation to create the dark chocolate vegan frozen dessert with cherry swirls.
"I did many batches that weren't good," Slizewski said. "Finally, we found a formulation that worked."
With the addition of the new non-dairy option to the ISU Creamery's 19 Cyclone inspired flavors, Slizewski hopes this marks the beginning of the ISU Creamery becoming more inclusive to customers who do not consume dairy or egg products, thus bringing in a new set of clientele.
"We are innovative and truly student-education centered," Dr. Clark said. "This is evidence that we're willing to try new things, and we're not close-minded to alternative lifestyles."
The vegan frozen dessert will hit the storefront on March 21, 2022. It will be available to purchase during all open hours at the ISU Creamery in pre-packaged eight-ounce cups and 32-ounce quarts. The ISU Creamery is located on Iowa State's campus in Room 2953 of the Food Sciences Building. Currently, the ISU Creamery is open Monday, Tuesday, Thursday and Friday from noon to 4:30 pm, closed Wednesday and closed Saturday.