Welcome to the Iowa State University Creamery!
Location and hours 
ISU Creamery Retail Store
Come visit us in Ames on the historic Iowa State University campus. Find us on the second floor of the Food Sciences Building, room number 2955.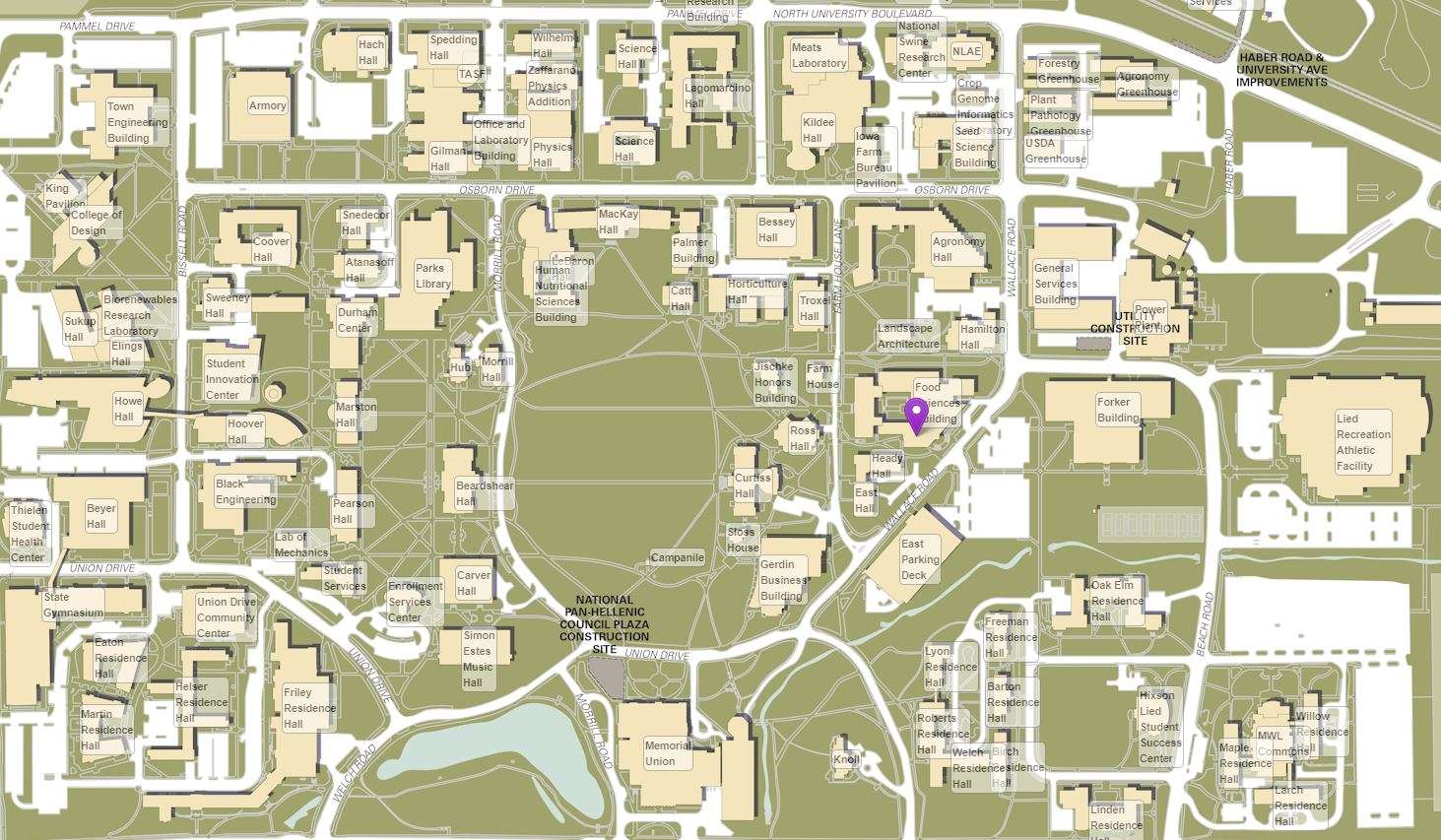 Want exact directions from your location? Click here!
Other locations:
SPARKS Cafe
Located on the fourth floor of the Student Innovation Center, SPARKS Cafe also sells ISU Creamery ice cream in the 8-oz containers. SPARKS is open Monday-Friday 9 a.m. - 5 p.m.
Gentle Doctor Cafe 
Located at the College of Veterinary Medicine, Gentle Doctor Cafe also sells ISU Creamery ice cream in the 8-oz containers. This cafe is open Monday-Friday 7:30 a.m. - 2:30 p.m.
Visit the Dairy Science Club on Wednesdays during the school year, where they sell ice cream to-go 11 a.m. ­– 1 p.m. at Kildee Hall.  
We scoop ice cream five days each week:
Monday: 12:00 p.m. – 4:30 p.m.
Tuesday: 12:00 p.m. – 4:30 p.m.
Wednesday: CLOSED
Thursday: 12:00 p.m. – 4:30 p.m.
Friday: 12:00 p.m. – 4:30 p.m.
Saturday: CLOSED
Sunday: CLOSED
Directions
If you're driving, the nearest visitor lot is the East Parking Deck, 500 Wallace Rd, Ames IA 50011. Meters accept quarters or mobile app payment.
The Food Sciences Building accessible entrance is on Wallace Road. Once inside the building, use the nearest elevator to go up to the 2nd floor.
Ice Cream
Single scoop: $3
Double scoop: $4
Triple scoop: $5
8 ounce cup: $5.50
32 ounce carton: $12
Grabbers
All varieties: $6.50/sandwich
Cheese
Cheddar Cheese Curds: $5.50/9oz bag
Aged Cheddar: $6.60/5oz piece
Study Breaks: $2/cup
ISU Creamery gift certificates available for purchase - $4 double scoop ice cream certificate or 1 bag cheese curds certificate. 
The ISU Creamery Store accepts credit/debit cards, cash, and Apple/Google/Samsung Pay.
Sorry - CyCash and Dining Dollars aren't accepted.
Check out each of the unique flavors of ice cream named to honor Cyclone traditions and history. Which one will be your favorite?
Ice cream flavors